Alternate Definitions (Homonyms)
When the same term is used for different structures or combinations of structures in the brain, you can learn the alternate definitions by typing the name into NeuroNames.
Try it! Find four alternate definitions of basal ganglia.
For guidance on comparing different uses of the same neuroanatomical term Open BrainInfo Again in a separate window and navigate according to the instructions below.
1. Click 'Search by Name'in the green sidebar.
2. In the search box, type basal ganglia, and click 'Submit Query'.
The standard term (exact match) will appear with five alternate forms.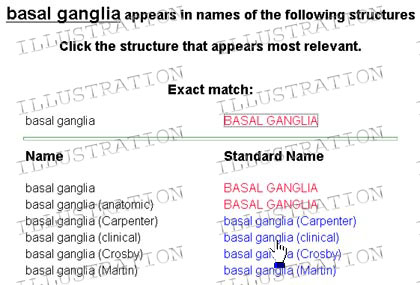 The standard definition, in this case taken from the Nomina Anatomica, is a narrow definition based on the proximity of the largest, well-defined subcortical structures in the telencephalon. The other definitions include more substructures based on proximity, connectivity, and/or function. To see the definition of each:

3. Click the name, e.g., "basal ganglia (clinical)".

4. Click

.
5. The definition will appear.

---